Salem Power Launch Reception
ReachArts Gallery, Swampscott, June 29
Hosted by Derby Wharf Light Box



Salem Power poet-readers (left to right): Lee Eric Freedman, Margaret Eckman, Bill Sherman, Betsy Hart, Crystal Condakes Karlberg, Colleen Michaels, and January Gill O'Neil



Colleen Michaels, founder and leader of the Improbable Places Poetry Tour, recounts working with protesters and U.S. Homeland Security for the 2014 event, the "beautiful glow from the poetry," and the final hum of the plant's generators.



Margaret Eckman reads her poem "Wind Machine," which ponders a clean energy source.



January Gill O'Neil recalls touring the power plant with the event photographer, after reading "Love Song for the Decommissioned Power Plant." O'Neil also read the poem at her keynote feature for the MassPoetry Festival, May 2023.



Lee Eric Freedman, "Renegade Poet Laureate of Swampscott," reads the poem "Footprints" by the late Blaine Hebbel, a longtime colleague. Freedman wore a jacket with buttons and a visitor's pass from the 2014 event in honor of Hebbel.



For Bill Sherman, author of "Grids," the 2014 event brought back memories of an MIT professor who specialized in nuclear power plants.



In "Worth in His Labor," Betsy Hart commemorates the skilled labor that sustained the power plant.



Crystal Condakes Karlberg examines the many facets of "Coal."



Colleen Michaels closes out the launch program with a reading of "The New England Smokestack Speaks of Her Decommission," gaining laughs with her characterization of the of the plant as "a noisy aunt" who confesses, "Of course I smoked. We all did."


---
Poems Recall Legacy of the Salem Power Plant



In July 2014, a group of local poets entered the high-security Salem power plant to give a reading commemorating the closing of the high-polluting, landmark facility with its coal-burning furnaces and towering smokestacks. A new chapbook, Salem Power: Poems from the 2014 Improbable Places Poetry Tour, presents 15 poems from the historic reading, selected by the tour's leader and founder, Colleen Michaels, Director of the Writing Studio at Montserrat College of Art, Beverly.

Demolition of the 63-year-old structure began soon after, replaced by the current Footprint Power facility, a cleaner, more efficient energy producer. Tagged as one of the Massachusetts "filthy five" coal-burning polluters, the old power plant lives on in memory and imagination, and the poets focus on the vital benefits and the deadly harms, on the generations of dedicated workers, and on a clean-energy future.

The anthology includes poems by J.D. Scrimgeour, chair of the English Department at Salem State University (SSU); January Gill O'Neil, SSU associate professor and board chair of the Association of Writers and Writing Programs; and Michaels, who likens the old plant to "a noisy aunt… / who wore stovepipe pants well" and "danced with every mayor."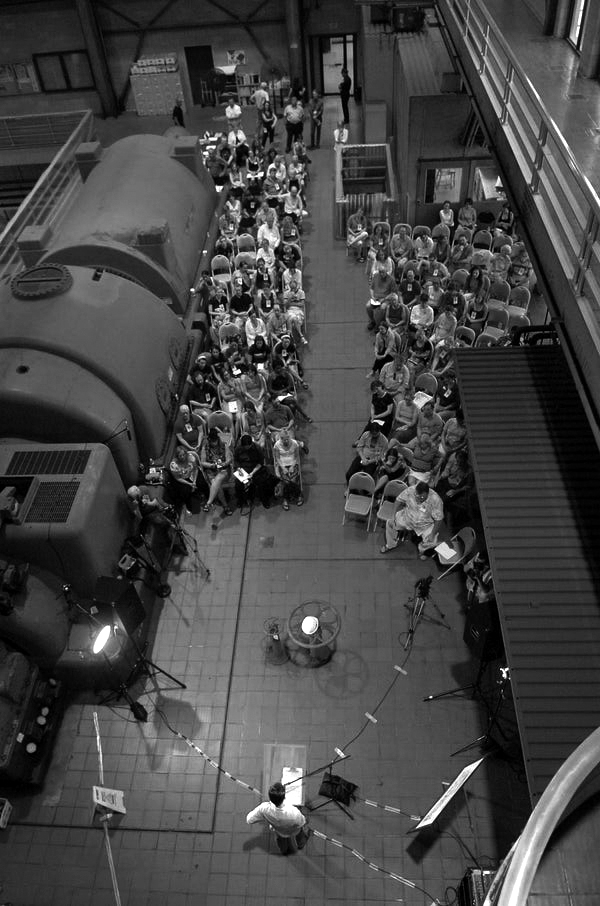 The Improbable Places Poetry Tour at the Salem power plant, July 2, 2014. Photograph by John Andrews, Creative Collective

In a pulsing variety of styles, formats, and lengths, the poems—likened to a "castaway's bottle notes" by contributor Mary Ann Honaker—touch on wind power, the nature of grids, environmental damage, childhood memories, the 2003 New York City blackout, the transforming work of artists and writers, and more. All of the poets continued to thrive in their careers, publishing books, contributing to journals, and participating in public readings. The Improbable Places Poetry Tour, now in its 14th year, celebrates local sites by bringing vibrant contemporary poetry to interact with local communities.

Three of the chapbook contributors have passed away in the nine years since the reading: social activist and publisher Blaine Hebbel; screenwriter Mickey Coburn; and journalist Melissa J. Varnavas, whose poem, "Forgotten," draws on interviews with employees of the plant for the Beverly Citizen. Hebbel's poem, "Footprints," expresses hope that the new "Salem Harbor Station [will become] / a model for our nation."

Susanna Brougham, Margaret Eckman, Elizabeth Hart, Crystal Condakes Karlberg, Dawn Paul, Bill Sherman, Emma Siemasko, and Cindy Veach round out the list of accomplished poets with work in the chapbook anthology. The 15 poems in Salem Power address a historic transition and are a part of local literary history.

Salem Power: Poems from the 2014 Improbable Places Poetry Tour is the fifth title in the Derby Wharf Light Box chapbook series, modeled after the legendary City Lights Poetry Series published by renowned poet Lawrence Ferlinghetti. The booklets measure a compact 4-3/4 by 6-1/4 inches.

Related Websites:
The Improbable Places Poetry Tour
https://www.montserrat.edu/academic-advising-and-support/writing-studio/the-improbable-places-poetry-tour/

Improbable Places Poetry Tour, Salem Power Plant: YouTube
https://www.youtube.com/watch?v=dRuQ4DgjIiU

Improbable Places Poetry Tour at Salem Power Plant: Salem Patch
https://patch.com/massachusetts/beverly/improbable-places-poetry-tour-at-salem-power-plant


---
Now at Grolier Poetry Book Shop!



The Grolier Poetry Book Shop is now selling the full line of titles in the Derby Wharf Light Box series. With National Poetry Month approaching, consider a pilgrimage to the nearly 100-year-old legendary bookshop in Harvard Square, Cambridge (6 Plympton Street). Buy enough volumes to meet the Poetry Month Challenge of reading a book of verse a day for April. Derby Wharf Light Box can give you a momentum-building start with these titles:


Salem Power: Poems from the 2014 Improbable Places Poetry Tour, Edited by Colleen Michaels

no! by Malcolm Miller

One Port, by Claire Keyes

The Route: Salem Jail to Gallows Hill, After Mary Towne Estey (1634-1692), by James R. Scrimgeour

Ticket Outta Here, by Javy Awan


These four poetry chapbooks--designed by Jordan Awan-- are available for order online at https://derbywharflightbox.com. As one return customer, who ordered multiple copies, wrote: "I love gifting these books!"

You can visit the Grolier Poetry Book Shop online at https://www.grolierpoetrybookshop.org/shop


---
Malcolm Miller's no! Reviewed in The Boston Globe

According to book columnist Nina MacLaughlin, "Miller's [work is] exuberant, humorous, and hugely wise…. [He was] someone who took big joy from the world, its mysteries, its simple everyday pleasures…. Miller lived on the margins, and was able to get a sweeping, insightful perspective from there."

Click here to read the full review, "Posthumously published poems from Malcolm Miller in 'No!'" from The Boston Globe, January 29, 2023.


---
Rod Kessler Salem State University Lecture on Malcolm Miller: Video

Rod Kessler, who selected and introduced the poems by Malcolm Miller in no! was invited by Salem State University Explorers to give a lecture on Malcolm Miller via Zoom. To view Rod Kessler's January 18, 2023 presentation on Malcolm Miller, click here.



Miller in his Pioneer Village apartment, fall 2013, displaying his 1954 diploma from McGill University, Montreal, Canada. (Photograph by Rod Kessler)


---
Rod Kessler in Conversation with Agatha Morrell: A ReachArts Podcast

This must-hear program is chock-a-block with readings of Miller's poems, information about his life and career, appreciations of his artistry and achievement, and updates on Kessler's project to make Miller's work more extensively known.

Listen to the episode here or wherever podcasts are available.


---
Poetry Chapbook Launch Reception: no! by Malcolm Miller

Promoting and preserving the work of Salem-born poet Malcolm Miller (1930–2014), a group of distinguished local poets and writers gathered for a reading at the ReachArts Gallery in Swampscott, January 31, to mark the release of a new chapbook of 24 poems by Miller, no! from Salem-based publisher Derby Wharf Light Box.




(Left to right:) J.D. Scrimgeour, English Department Chairperson, Salem State University (SSU), and head of Salem Writers Group; Jennifer Martelli, recipient of the Massachusetts Cultural Council Grant in Poetry; M.P. Carver, Director of the Massachusetts Poetry Festival; Rod Kessler, Professor Emeritus, SSU, who has led the efforts to rediscover Miller's work; Kevin Carey, maker of the documentary film, Unburying Malcolm Miller; and Peter Urkowitz, SSU Library. After reading poems by Miller, he panelists responded to a comment from the audience about the similarities between the rediscovery of Miller's work and the posthumous revelation of Emily Dickinson's oeuvre more than 120 years ago.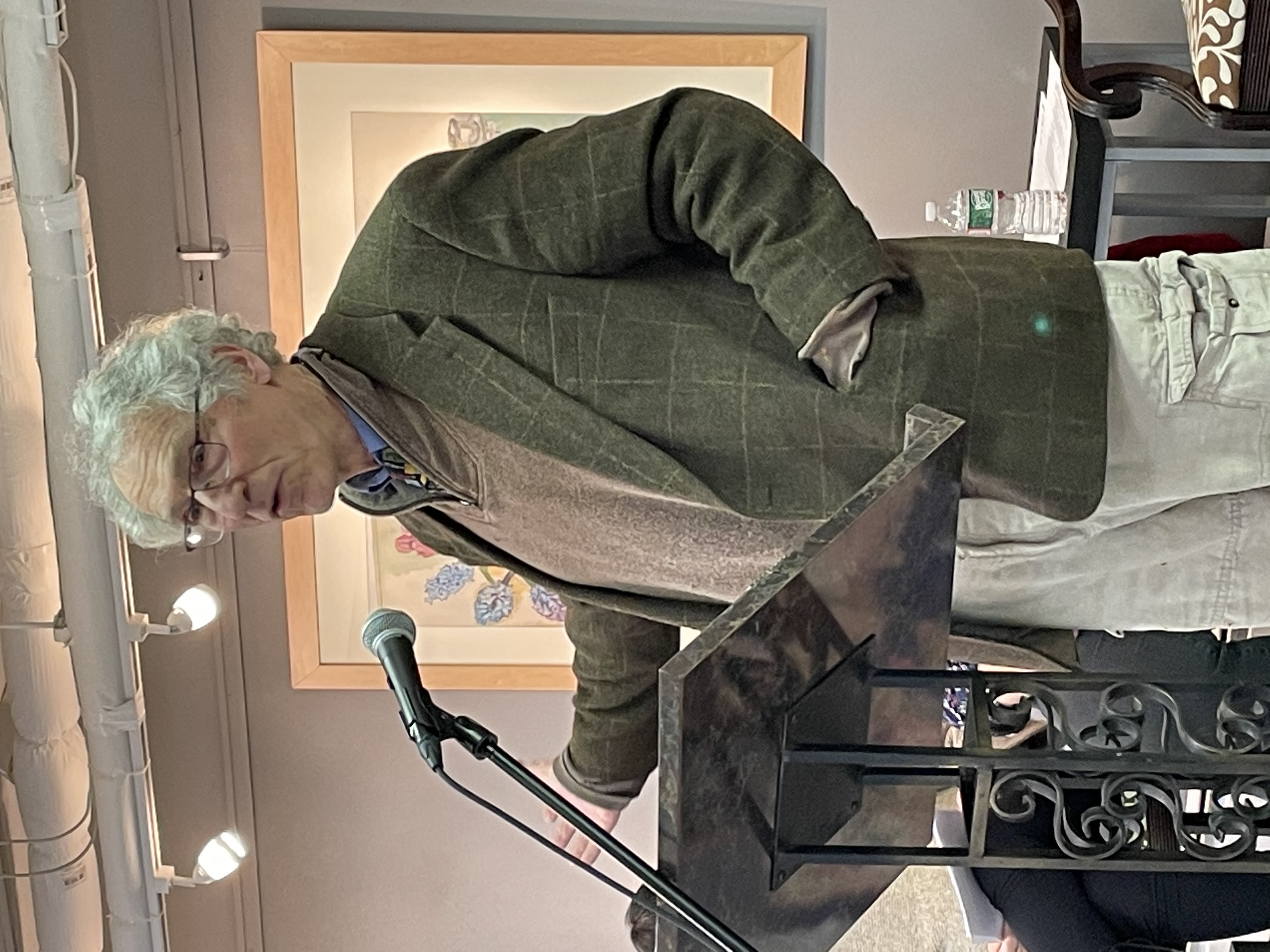 (Above, left to right:) Rod Kessler, Miller's literary executor and champion, who selected and wrote the introduction to the poems in no! and assembled the revelatory What I Am Always Waiting For (Grayson Books, 2020), shares anecdotes about Miller and the rediscovery project.

Kevin Carey, poet and playwright, who produced the documentary film, Unburying Malcolm Miller, recaptures Miller's inventiveness and wit.

M.P. Carver, who directs up the biennial MassPoetry conference, played a key role in sorting through Miller's legacy of more than 3,000 poems.

Poet and memoirist Jenn Martelli reads some Miller poems, praising his line breaks and recounting her reading in the documentary film.



(Above, left to right:) J.D. Scrimgeour, author of the recent English and Mandarin collection, Banana Bread, shared some personal notes from Miller.

Peter Urkowitz, poet and graphic artist, recalls his encounters with Miller--he'd open his home for Miller to type his manuscripts without distraction.

Allen Cheng, who translated some Miller poems into Mandarin, shares about the challenges of wording and rhythm.


---
Salem-Born Malcolm Miller
Delivers a Lasting Poetry Magic


(photograph via Pamela Harris)

Malcolm Miller, a Salem-born, Beat generation poet, unabashedly engages, entertains, amuses, instructs, surprises, and provokes in the 24 newly released, plainspoken poems of no! Selected, edited, and with an introduction by Rod Kessler, Professor Emeritus at Salem State University, the poems once again make a powerful case for the rediscovery and elevation of a prolific writer who died in obscurity in Salem public housing in 2014.

The poems of no! cry a resounding "yes!" to everyday beauty, the joy of living, the insights of imagination, and unexpected moments of heightened awareness. "I am easy to get along with," Miller promises in his poem, "the music," and he invites the reader to "stagger with wonder / at existence…."

In other poems in this chapbook, the fourth in a series published by Salem-based Derby Wharf Light Box, Miller describes an imaginary encounter with film director Orson Welles in Rome, laments the suicide of a celebrated professor of literature, recalls a midnight swim as a boy in Salem Harbor, and exhorts the reader to "have a great / joy in the world / without knowing exactly why." The selection includes the poem "I remember," which received a first prize from the International Lawrence Durrell Literary Society in 2017.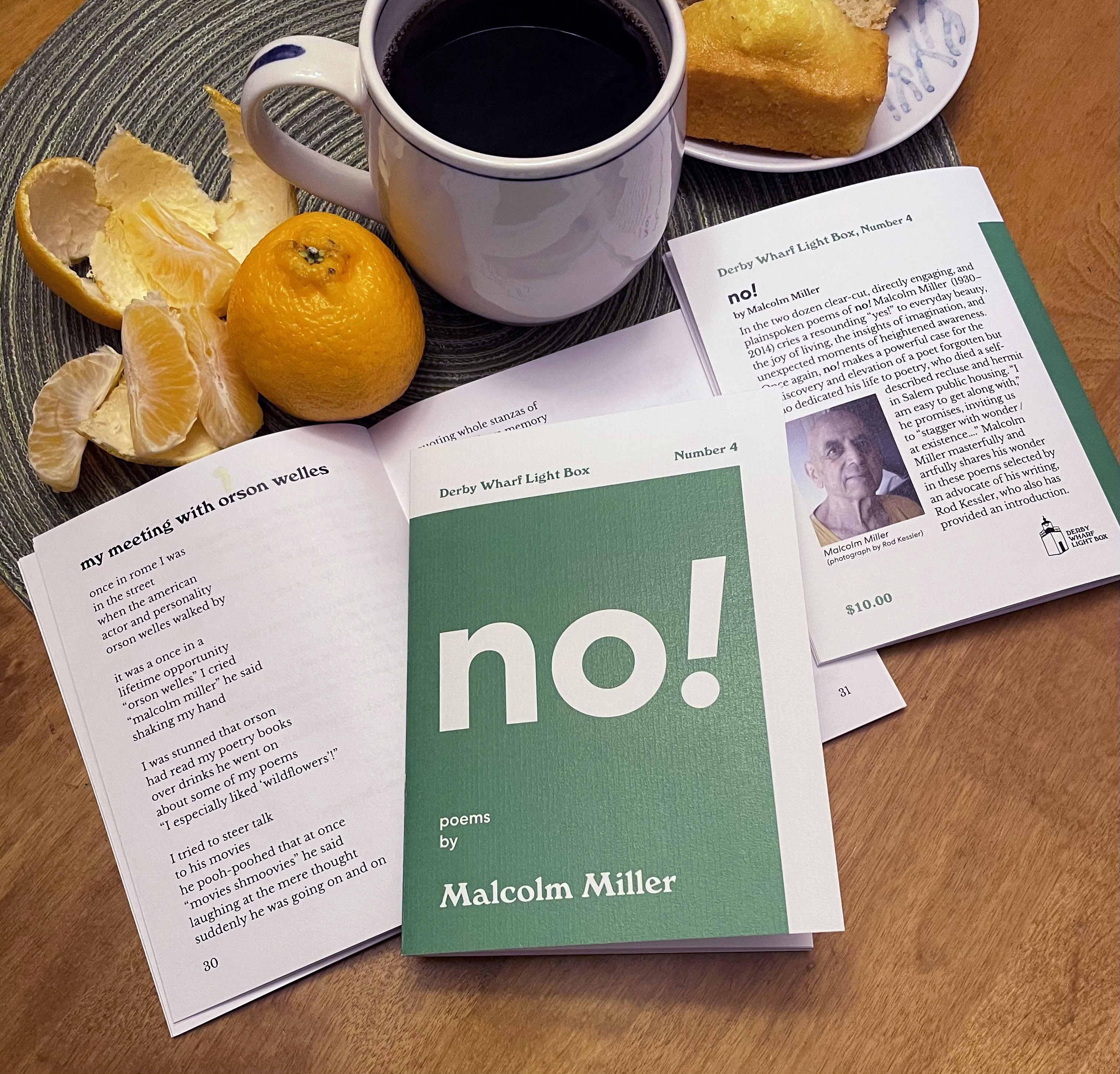 Miller dedicated his life to poetry, published two collections in Canada early in his career, self-published more than 50 titles locally in Salem, filed a poetry column in a weekly Salem alternative newspaper, and left a legacy of more than 3,000 poems. After Miller's death, Kessler assembled a team of local poets who pored through the entire oeuvre to produce the well-received selection of poems, What I Am Always Waiting For, published by Grayson Books in 2020. This rediscovery of Miller's brilliant poems is the subject of a one-hour documentary film, Unburying Malcolm Miller, by Kevin Carey and Mark Hillringhouse, available on YouTube.

An alumnus of St. John's Preparatory School, Miller graduated from Canada's prestigious McGill University, where he established a lifelong friendship with the poet-singer Leonard Cohen. He also served in the U.S. Navy and is buried in the veterans section of Salem's Greenlawn Cemetery.

The Derby Wharf Light Box chapbook series is modeled after the legendary City Lights Poetry Series published by renowned poet Lawrence Ferlinghetti. The booklets measure a compact 4-3/4 by 6-1/4 inches.


---
Claire Keyes, author of One Port, the latest poetry chapbook in the Derby Wharf Light Box series, is featured on the ReachArts Podcast with host Agatha Morrell.

July 21, 2022: Claire reads "Listening to Billie Holiday Sing 'Blue Moon'," "Crosswalk, Marblehead," "Lunch at the New York Deli and Pizza, Salem," and "Water Love," and shares insights and advice about writing poetry.

Listen to the episode at the ReachArts homepage or wherever you find your favorite podcasts, including Apple Podcasts, Spotify, and Player FM.


---
Poems Set in North Shore Offer Insights into News, Nature, and Relationships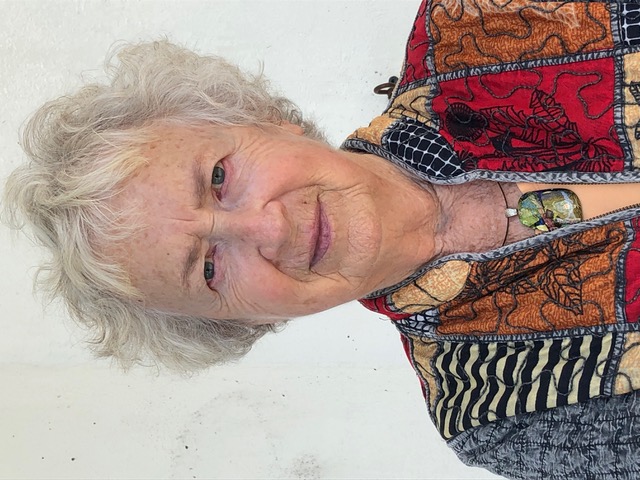 One Port, the third in a series of poetry chapbooks with a focus on the North Shore, presents 18 dazzling poems by the admired and influential poet and teacher Claire Keyes. The poems are set recognizably in Marblehead, Salem, and the North Shore but artfully expand with references to headline news from the Capitol, Iraq, and around the block.

The poems include close observations of nature—such as a fish hawk in Salem Harbor—and of human character and interactions; make references to living local history, such as the heritage of Wilmot Redd, executed as a witch in 1692; and offer eloquent explorations of loss, longing, and coping with grief. Keyes' poetic insight, wit, sensual delight, and thoughtfulness are evident throughout, as the poems take the reader to such local sites as Crocker Park, a crime scene on Jefferson Avenue, a pizza restaurant at Witch City mall, and the pool at a YMCA.

"Claire is an artist—she paints pictures," notes Swampscott poet Clemens Carl Schoenebeck, author of Where the Time Went: Poems at Eighty. "Each brushstroke in the poems of One Port leaves a rainbow on the page, whether painting a feeling or place, a shared joy or a whispered loss."

Keyes is Professor Emerita at Salem State University, teaches in the Salem State Explorers lifelong learning program, and leads the Poetry Salon at the Abbot Public Library in Marblehead. She is the author of The Question of Rapture (Mayapple Press), Rising and Falling (winner of the Foothills Poetry Chapbook Contest), and What Diamonds Can Do (Word Tech Communications). She has received the Robert Penn Warren Award from New England Writers; a First Prize in poetry from Smartish Pace; a grant in poetry from the Massachusetts Cultural Council; and a poetry fellowship from the Wurlitzer Foundation in Taos, New Mexico.

One Port is available from Salem-based publisher Derby Wharf Light Box (www.derbywharflightbox.com). The booklet is a compact 4-1/2 by 6 inches, modeled after the legendary City Lights Poetry Series.

Like Salem Harbor at its peak, thronged with treasure-laden vessels, One Port gathers and delivers a wealth of vital poetry—poems to be cherished, quoted, and celebrated.


---
Poetry Booklet Retraces Route of Victims to Gallows Hill Through Today's Salem



The witchcraft trials and executions of 1692 still echo in today's Salem. In 1993, shortly after the 300th anniversary of the tragic events, poet James R. Scrimgeour retraced the route taken in a sheriff's cart by his ancestor Mary Towne Estey and seven others across the city to Gallows Hill for execution as unrepentant witches.

The Route: Salem Jail to Gallows Hill, After Mary Towne Estey, 1634–1692, a new booklet from Salem-based publisher Derby Wharf Light Box, features Scrimgeour's fast-moving narrative poem, with a map of the path along Salem's streets. A bonus poem, "Judge Corwin's House," offers a pojgnant, insightful tour of the judge's residence, also known as "The Witch House," a Salem tourist landmark.

The author presented and discussed the title poem in March as part of a program titled "Give Voice: Poetry in Response to the Salem Witch Trials 1692," sponsored by the Salem Athenaeum in partnership with the Peabody Essex Museum. Scrimgeour is not only a descendant of Estey but also of Thomas Perkins, a witch trial juror.

"Besides delivering perspective-changing insights, the poem also describes Salem sights and locales as they were nearly 30 years ago, in 1993—it's fun to see what has changed and what hasn't in the city and its life, even while gaining historic information in poetic format," notes Javy Awan, Derby Wharf Light Box publisher.




Scrimgeour, who holds a doctorate from the University of Massachusetts and is author of a critical biography of Irish dramatist Sean O'Casey, is poet laureate of New Milford, Connecticut, and Professor Emeritus at Western Connecticut State University. He is the author of 10 books of poetry, most recently Voices of Dogtown: Poems Arising Out of a Ghost Town Landscape (Loom Press, 2019), designated a "must read" by the Massachusetts Center for the Book. Scrimgeour's work has received several Pushcart Prize nominations, and he has given more than 250 public readings of his poems in the United States and abroad.

The Route: Salem Jail to Gallows Hill, After Mary Towne Estey, 1634–1692, is the second title in the Derby Wharf Light Box series, which is modeled after the legendary City Lights Pocket Poets. The 32-page booklet, printed by Scarlet Letter Press of Salem, measures a compact 4-1/2 by 6-1/4 inches.


---
Get Your Ticket Outta Here



Ticket Outta Here and Other Poems, by Javy Awan, is the first title in a planned series of chapbooks launched by Derby Wharf Light Box, a new micropublisher based in Salem, Massachusetts. The booklet design is modeled after the legendary City Lights Pocket Poets Series published by renowned Beat poet and bookseller Lawrence Ferlinghetti.

Ticket Outta Here and Other Poems collects 12 previously published poems that have appeared in Poet Lore, Potomac Review, Ekphrastic Review, and other journals and online showcases such as the 2019 Marblehead Festival of the Arts. A former editor and publications director in Washington, D.C., Javy Awan now lives in Salem and is a member of the Tin Box Poets. He has read at local North Shore open mics and was selected to read at two of the 2019 Improbable Places Poetry Tour events sponsored by Montserrat College of Art.




Art director for the Derby Wharf Light Box series is Jordan Awan, a former art director for the New Yorker and former creative director for MIT Technology Review. Jordan Awan serves on the faculty of the Massachusetts College of Art in Boston and is a 2011 recipient of the Young Guns Award of the Art Directors Club.

Freelance illustrator and graphic designer Morgan Elliott developed the new micropublisher's logo, a linear image of one of Salem's three historic lighthouses. Ms. Elliott also teaches at Massachusetts College of Art.